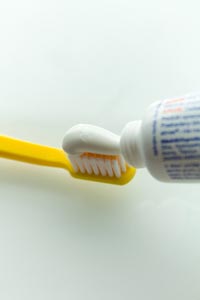 Tartar (dental calculus).
Tartar is deposited on the dental surface (crowns and roots) throughout life. It is the same as soft dental plaque, which, if not removed from the recesses on dental surfaces, undergoes mineralization. Tartar is made of bacteria in 95 per cent. Mineral substances from the saliva make up the remaining 5 per cent. Tartar, if not removed, leads to serious disorders of the gums and bones surrounding the teeth, and at an advanced stage may even cause dental loss.

What are hygienic procedures?
Hygienic procedures are an important part of dental prophylaxis and therapy.
A typical hygienic procedure includes scaling (removal by ultrasound), sanding (removal of dark deposits by a sand stream under pressure), polishing (precise polishing of the dental surface with the use of specially designed rubbers and polishing pastes), fluoride therapy (protecting dental surfaces topically with fluoride to prevent caries), and individual tuition on the subject of oral hygiene.




How often should these procedures be carried out?

Hygienic procedures in periodontology.
Hygienic procedures are the basic part of the therapy of periodontitis (see: periodontology). Hygienic procedures in the sustenance phase of periodontological treatment should be applied at least 3-4 times a year.
Being aware of how important part of prophylaxis and therapy hygienic procedures and patient's education are, we employ highly qualified dental hygienists.

Quality of equipment.
Our surgery is furnished with cutting-edge specialist equipment which helps us cleanse our patients' teeth in a gentle and effective manner.